Nova Scotia School Of Kung-Fu & TaiChi
...NEWS...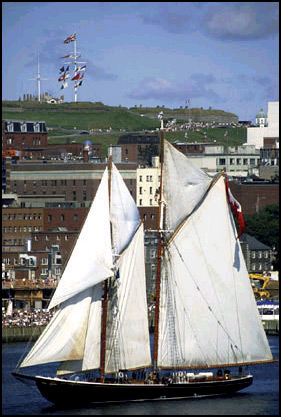 "Bluenose II" in Halifax Harbour during "TallShips 2000"
Nova Scotia, Canada
Photo by Yau-Sun Tong
December 20, 1998
This is a new feature on the school's website and will be updated with the latest information starting in the new year...1999 (year of the Rabbit). Sifu Tong will use this form to further promote taijiquan (taichi) and wushu.


February 18, 1999
Coming Event:
Sifu Tong will be hosting a taiji workshop retreat this autumn. The retreat is in the planning stages but more details will follow at a later date. The retreat will be held at the peaceful and scenic Camp Geddie which is nestled on the shores of the beautiful Northumberland Strait in Nova Scotia.
Participants will enjoy a weekend of fun and relaxation, featuring the teachings of Master Yau-Sun Tong. The date of this event will be September 10-12, 1999 (weekend after labour day). Camp Geddie is an ideal location for a taiji retreat... forests, fields, beaches galore with comfortable accommodations in the lodge and cabins, boat house and canoes. The lodge features a great hall complete with fireplace and large spacious deck... truly a nice weekend getaway for those seeking to escape the hustle and bustle of ordinary life to relax and immerse oneself in taiji. More to follow at a later date....
Also coming soon:
Mr. Tong will be presenting a photo exhibition entitled "Images of The Mystical Land". Click here for more.


November, 1999
Mr. Tong's long awaited photo gallery will be (knock on wood) ready sometime in November (1999). Keep checking back (links from his home page).


March 18, 2000
Of course by now you likely know that Mr. Tong's long awaited photo gallery is open. Just click here on photo gallery to visit and see Mr. Tong's first series of photos of Tibet, China.
Coming soon... Mr Tong has recently returned from another exciting trip to The Fascinating South-West China... which, coincidentally, is the name of the next series of photos that is currently being prepared for the gallery. Please keep checking back to see the work in progress!
For October 2001
Exhibition in Germany :
Leica Gallery of Germany has chosen Mr. Yau-Sun Tong to exhibit a group of his photographic works in the prestigious Leica Gallery in Germany for a month long solo exhibition this October 2001. Details and schedules for Leica Gallery can be found at: http://www.leica-camera.com


---